Salieri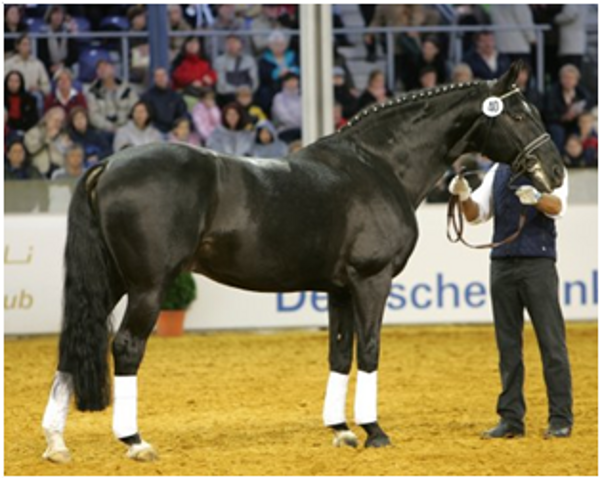 1989 Black Hanoverian Stallion 168cm
SIRE: Salvano by Salem DAM: Samtbeere by Servus/Wrede
Performance Test Adelheisdorf 1992: Overall score 110.05/12 Dressage 101.52/17 Jumping 116.44/8
Salieri is a thoroughly worthy representative of the Senator performance line. His sire Salvano also produced the top stallion Sherlock Holmes who helped upgrade the Senator line that had been wasting away for years. Salieri's list of competition successes is impressive as he won his first victories in advanced class at the age of seven. He had 15 international showjumping wins and then won the highly prized "Sires of the World' showjumping competition in Hanover, Germany, in 2000 against the best from the rest of the world.
Salieri established himself well as a sire and has produced 2 licensed sons who are already doing well in competition sport. The full siblings, Salinero and Seven Up represented their sire at the Federal Championships in 1999 and 2000 respectively, one in dressage and one in showjumping. Quite an amazing feat! Seven Up has already won 3 advanced classes at the age of seven.
Seven Up has had multiple international successes in showjumping, but undoubtedly it is Salinero that waves the flag the highest in dressage. Anky van Grunsven has achieved incredible success with Salinero, winning not only the individual gold medal at the 2004 Olympic Games, as well as the 2006 World Equestrian Games in Aachen Grand Prix Kur with 86.1%, the 2006 CDI-W Final in Amsterdam with 78.250%, Individual Gold at the 2004 Olympic Games Athens with 85.825% for the Grand Prix Kur, plus countless international Grand Prix competitions too numerous to mention here. He is a true World Champion!!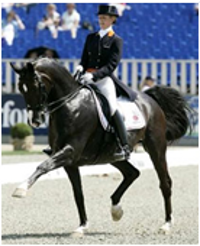 Salinero