Fishermans Friend (imp)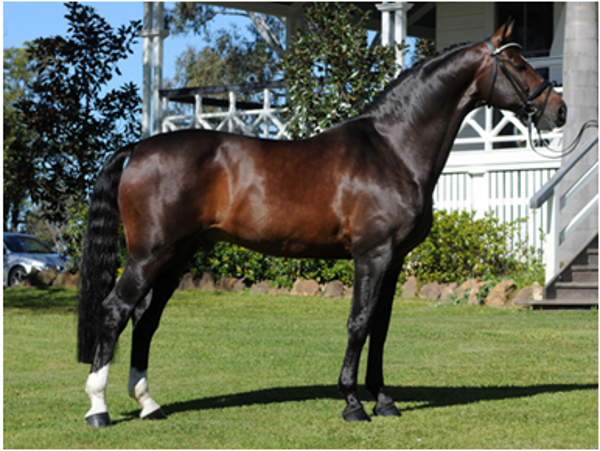 1997 bay 169cm Hanoverian
SIRE: Fabriano by Wendulan DAM: Penny Lane by Pik Solo/Libanon
Stallion Performance Test scores: Overall score 124.08 / 6th of 45
Dressage score 127.11 / 4th Jumping score 112.64 / 11th
** MULTIPLE GRAND PRIX CHAMPION 2011 **
** AUSTRALIAN INTERMEDIATE II CHAMPION 2009 **
** AUSTRALIAN PRIX ST GEORGE CHAMPION 2008 **
** SYDNEY CDI ADVANCED CHAMPION 2008 **
** EFA (Qld) FEI DRESSAGE HORSE OF THE YEAR 2009 **
** SIRE OF CHAMPION HANOVERIAN FOAL 2006, 2007 & 2009 **
Fishermans Friend is a noble and big-framed stallion with a very well formed neckline. Type and expression, combined with 3 sensational paces, are the main characteristics of this well-shaped, elegant stallion. In the stallion performance test he excelled with a total of 124.08 points and attracted everybody's attention by his floating movements and his high rideability. His dam completed her mare performance test with high results in rideability and jumping ability, and the sire of Fisherman's Friend, Fabriano, is regarded as one of the best stallions in the current Hanoverian breed. The offspring of Fabriano convince by very high rideability, above average jumping talent and very good basic gaits. Pik Solo is a personality of a horse with a well reknowned and established pedigree. He has an excellent dressage breeding value of 145.0. His sire is the top dressage stallion Pik Bube I, who was competed at Grand Prix dressage by Herbert Rehbein, after completing his performance test as Vice Champion in 1976. He possessed flowing movements, lots of presence, and a tremendous capacity to learn. His breeding values are 158 for dressage and 127 for showumping. Fishermans Friend certainly had the genetics to be a supersire!
Fishermans Friend was imported to Australia from Germany in 2005 where he had been the Leader of the Celle State Stud Stallion Dressage Quadrille in 2004 and 2005. He had never competed prior to his arrival in Australia, which shows the amazing trainability of this beautiful stallion. Since commencing his dressage career in Australia he has been nothing but sensational. He was Australian Medium Dressage Champion in 2006, Australian Advanced Dressage Champion in 2007, and Australian Prix St George Dressage Champion in 2008. What an amazing feat!!!
He has also been awarded the Hanoverian Horse Society Medium Horse of the Year 2006, Advanced Horse of the Year in both 2007 and 2008, and the EFA (Qld) awarded him Advanced Horse of the Year in 2007 and Reserve Small Tour Champion in 2008. Tor and Fish won all 3 Advanced classes to win the CDI Advanced Championship last year and are now competing at FEI level. They won their first start at Prix St George with 67%, and finished the year in style by winning the Australian Prix St George Championship at the Australian National Championships last year. They have had multiple wins and placings in the Small Tour Championships, and have recently commenced Grand Prix with 62% at their first ever Grand Prix start. He was selected for the Horsewerks Hanoverian Dressage Team in both 2008 and 2009, and is now on the National & Qld Dressage Squads. It certainly has been an amazing 3 years!!!
His career as a sire has also been nothing short of sensational!! In 2008 Fish was again selected in the Top 10% of Dressage stallions on the FN Index, and in 2009 has the fantastic Breeding Values of 131 for dressage and 114 for jumping. In 2006 he sired the Champion Hanoverian Foal, Roxleigh Figaro, and in 2007 he again sired the Champion Hanoverian Foal, Ribbleton Faith. During the 2009 Hanoverian Tour, Dr Wilkens selected 6 foals by Fishermans Friend in his Top 10 Foals from throughout Australia!! The Champion Foal was awarded to his son, Remi Federer (from EM Remi La Bamba by Lanthan). His progeny are now just coming under saddle, and his oldest daughter, EMC BF Fimbriata, placed 6th in the prestigious Dressage With The Stars 2009 as well as other multiple wins and placings. His 3 year old daughter, EMC Remi Femme Fatale has just commenced her competition career and we expect big things from her this year.
Dr Wilkens, former Breeding Manager of the Hanoverian Verband, stated during his 2 Australian Tours:
"I saw 23 foals by him, which attracted (nearly without exception) by their type with a well developed neck, beautiful faces, very good top-lines, correct and long-legged, as well as striking good trot movements." and "Fish gives his type to his offspring. He combines very well with the TB mares and is really improving the trot."
Not only is he an outstanding dressage horse, but also a supersire !!+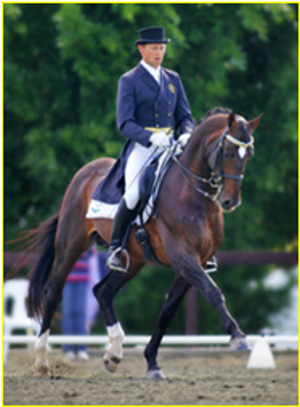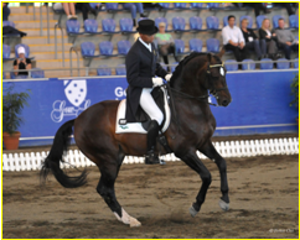 Fishermans Friend
Sydney CDI
Advanced Champion
2008

Fishermans Friend
Australian Prix St George
Champion Oct 08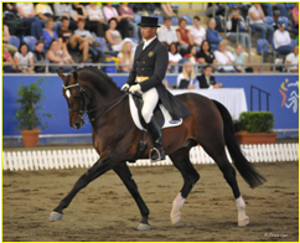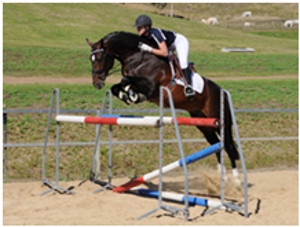 Fishermans Friend
Australian Prix St George Champion
Oct 08

SHOWJUMPING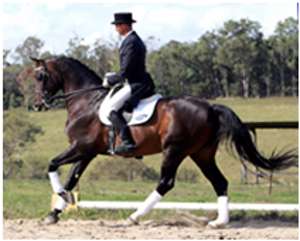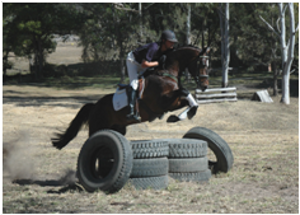 DRESSAGE

EVENTING
Scored 9 for cross country jumping
in his Performance Test
A STALLION FOR EVERY DISCIPLINE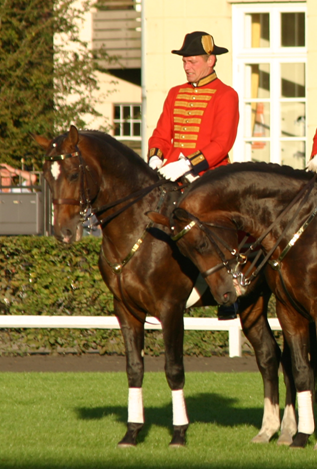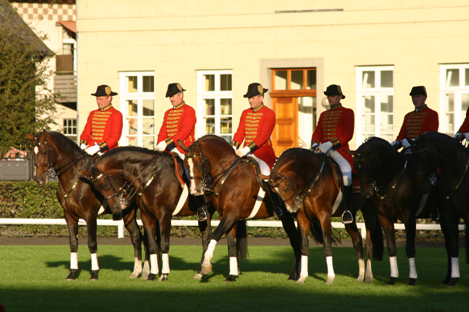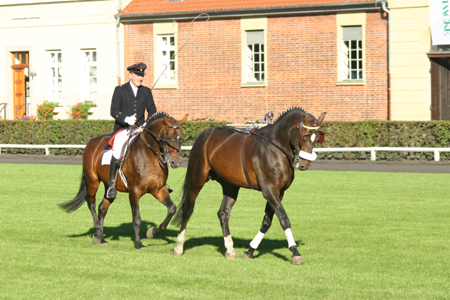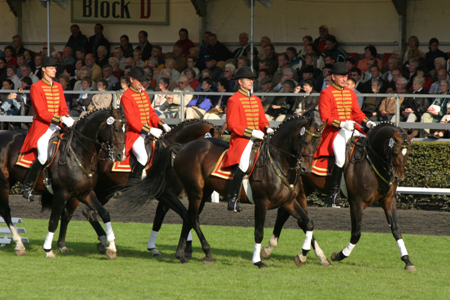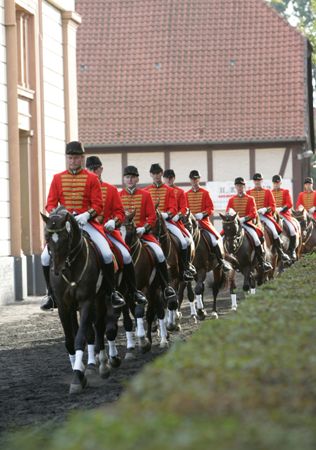 FISHERMANS FRIEND (imp) Leader of the Hanoverian Stallion Dressage
Quadrille in 2003 and 2004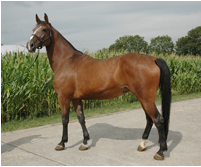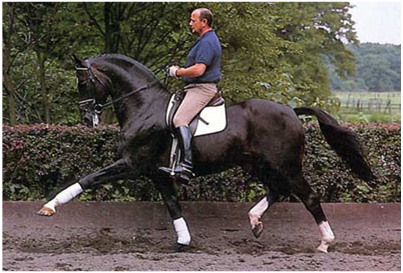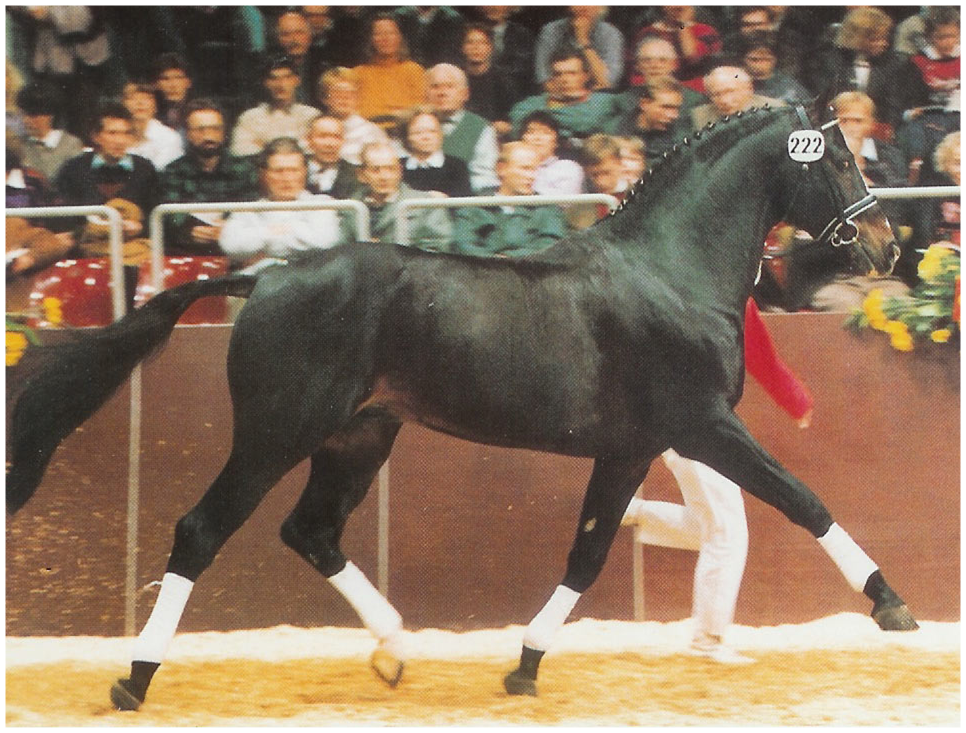 Penny Lane Pik Bube I Pik Solo