Rose O'Capri xx(decd)
Foundation Mare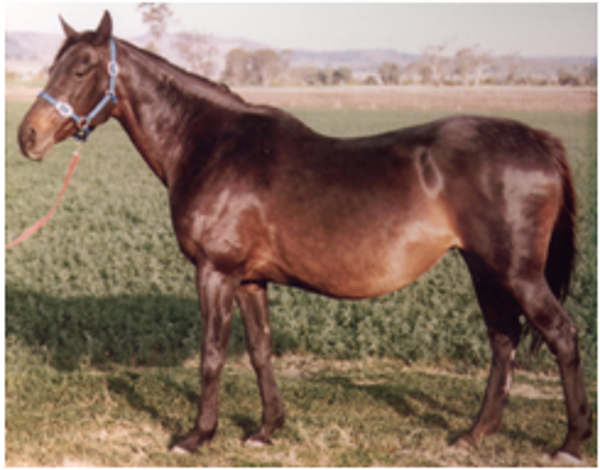 Photo taken at 20 years of age & 9 months in foal.
Black /Brown Thoroughbred Mare 1972 16.1hh
SIRE: King Capri xx by Hawa DAM: Avebury Rose xx by Avebury xx
What can you say about an amazing mare who has formed such a dynasty for Remi Stud?!! Rosie was the most gentle mare who bred to a number of different stallions and always produced the most stunning of foals no matter who the sire was. Here is her wonderful breeding history:
Prior to being purchased by Remi Stud Rosie produced 7 Thoroughbred foals, six of which were fillies. These included the super TB mare, Double Dyed Rose xx (see Mares), who was Cheryl's first dressage horse.
Tynies Rose xx (see mares). Maggie was the first foal from Rosie born at Remi Stud and she, in turn, has produced 4 Hanoverian foals for us so far, all colts, and also was the recipient mare for Elite Mare Remi Waltzing Matilda's Anamour daughter, Elite Mare Remi Abracadabra. She is currently in foal to Fishermans Friend (imp).
Remi Doncaster by Daktylus. A tall bay colt, Jack was born in 1990 and was purchased by Gary Norwood where he commenced his dressage career. He is now owned by Gary & Chris Breheny, Tasmania, after successfully competing to Elementary level.
Remi Daylight Saving by Daktylus. Born in 1990, Stormy was retained by Remi Stud and has gone on to produce her own dynasty (see Mares) for us. She is currently in foal to Salieri (Ger).
Remi Dreamtime by Daktylus. Ginny is the full sister to Doncaster and Daylight Saving and has had an illustrious show career with her young rider Kathryn Seaton, before being sold to Windfern Stud where she produced a colt by Contango II before being purchased back by Remi Stud. In 2006 she foaled a stunning brown colt by Fishermans Friend (imp) (see Foals) and is back in foal to Fishermans Friend (imp). She is now owned by Dee Potter and we wish Dee many more super foals from her.
Remi Gaia by Graf Landau (imp). Gaia (which means 'Spirit of Mother Earth') was Rosie's last foal and was born in 1994. Having lost another filly foal by Daktylus in 1993, Rosie was retired at the age of 23 years. Gaia grew on to be a beautiful mare and a successful dressage horse for Lucy McNutt and produced a wonderful filly foal by Anamour for Lucy amidst her competition career. Unfortunately Gaia died early at the age of 11 years.
All in all, Rose produced 13 foals for 11 fillies—an amazing broodmare and one who will forever remain in our hearts.