Home

2018

The Remi Stud Young Rider Scholarship is an annual Scholarship and is awarded to a very deserving Young Rider who has the talent and dedication in either dressage, showing, or eventing, but needs financial assistance to purchase a horse of their dreams. Cheryl O'Brien from Remi Stud has put together a great team of Supporters to help make this dream come true for one lucky young rider.
This Scholarship is an amazing opportunity for a young rider to have entry into the equestrian industry with support from a variety of Supporters.  The Scholarship includes the ownership of a purpose bred Hanoverian weanling by Lauries As (imp) plus a support package which includes feed from Prydes Easifeed, registration with Equestrian Queensland, marketing from Equestrian Australia and the Brisbane CDI, legal support from HorseForce, a saddle, bridle and saddlecloth from Edwards Saddleworld, 10 weeks training by Team Van Den Berge, show product from Dr Show, riding attire from Belrock Equestrian, Veterinary care from Westvets, registration and merchandise from the Hanoverian Horse Society of Australia, hoof care from Meaker Farrier Services, and transport by Manuel Equine Transport.  A total package valued at over $30,000. 
Previous Scholarship winners are:
2013: ISABELLA WILKINSON-McINTYRE from Brisbane, Qld, was the inaugural winner. She is a dressage rider and was awarded the black gelding, REMI LIVINGSTONE S by Lauries As (imp) / Lanthan (Ger).
2014: ALEXANDRA BARLOW from Yeppoon, Qld, was given the brown filly REMI LIBERTY BELLE S by Lauries As (imp) / Fishermans Friend (imp) that she will pursue an eventing career with in the years ahead.
2015: JORDYN FAINT from Londonderry in NSW, received the brown gelding REMI FALL GUY S, who was donated as a tribute to the outstanding stallion Fishermans Friend (imp) who sadly passed away that year.
These 3 youngsters have already been put under saddle by Team Van Den Berge, and it will be wonderful to see them out competing shortly.
2016: GEORGE GROVER, an eventer from Tasmania, was awarded the dark brown gelding, REMI LORD OF THE VALE S by Lauries As (imp) / Court Musician xx who is the full brother to DJWTS 4 y/o & 5 y/o Eventing Champion, Remi Lord of the Realm. He will travel to Team VDB to go under saddle later this year.
2017: OLIVIA RUZSICSKA from Humpty Doo in the Northern Territory received the black colt REMI LAZZARINI S by Lauries As (imp) / EM Remi Burlesque by Belissimo M. Oscar is from a very successful competition mare line, the family of Remi Lambuca, which is the original mare line tracing back 4 generations of Remi Stud breeding. Oscar will no doubt suit Olivia's dressage aspirations.
The winner of the Remi Stud Young Rider Scholarship 2018 was presented at the Brisbane CDI once again, and was awarded to Saskia Smith from Orange in NSW. Saskia was awarded the Hanoverian filly, Remi Lauries Dream S by Lauries As (imp) / Remi Dreamcatcher by Desperados. This breeding encompasses Grand Prix bloodlines on both sides of the pedigree with Lauries As being a multiple Grand Prix Champion and FEI Horse of the Year in Australia; and Desperados won the Team Gold Medal and the Freestyle Bronze Medal at the 2016 Olympic Games in Brazil, as well as being awarded Hanoverian Stallion of the Year in 2016. Dream and Saskia have big shoes to fill.
Saskia is a very dedicated young lady and competitor in the field of dressage and showing. She is one of 3 children whose parents, Tiffanie and Mike, have been a wonderful support over the years. Saskia has been riding since she was 5 years old, and they still have the 26 y/o stock horse and an elderly pony that her sisters share to ride. Tiffanie comes from a farm where horses were used on the farm for work, but certainly not as dressage horses. However, Saskia was bitten by the horse bug, and in 2012, after much nagging, her parents were able to free lease her a failed polo pony called Trieste. And that is where the dedication started. In Saskia's own words, Trieste was 'a scruffy, green, zebra maned going everywhere horse', and very much uneducated. Despite having no experience in dressage, Saskia has educated herself and her horse to Advanced level in 6 years, showing amazing determination and also talent. Her Mum tells me that her love for the sport and her absolute determination to succeed really shone through when she would watch her bobbing around wearing a head torch so she could train Trieste in the dark after school, as they don't have arena lights to work under.
Saskia has since gone from strength to strength with her riding; winning and placing in Pony Club, Interschool and club dressage as well as show riding. Not only did she win Reserve Champion Rider at the Zone Pony Club Championships, but she has also competed dressage with scores up to 75% on Trieste, and then ridden at the local shows coming away with multiple Champion Hack awards, and multiple Champion or Reserve Champion Rider awards. She was even selected to compete at Sydney Royal last year on Trieste. Last year Saskia was honoured with Captain of her school Equestrian Team, as well as leading the equestrian team to the NSW State Interschool Championships. These results are quite remarkable when you consider Saskia has done all this on a leased failed polo pony!! Saskia now gives back to the Pony Club that has supported her over the years, Cudal Pony Club, by coaching and mentoring younger riders, and has already completed the Preliminary Instructors syllabus from the NSW Pony Club. She is completing her HSC this year in order to enrol at Wagga University in Animal Science in 2020, so she has passed her pony, Trieste, to another young rider to compete on, leaving her with nothing of her own to ride.
However, next year Saskia has organised a gap year in Europe, the first 6 months working for Helen Langehanenberg and then Tristan Tucker, and will bring the knowledge learned there back to Australia to the benefit of her new filly, and other young riders. Her Mum, Tiffanie, was diagnosed with Breast Cancer in 2016, and following many surgeries and recovery processes since then (and with more to come), she has been unable to work consistently, which has placed a considerable strain on family finances - and of course Saskia's dream of a purpose bred dressage horse.
In order for Saskia to develop her riding further, she needs to have a horse bred to perform - and this is where the Scholarship comes in. With young riders like Saskia, our Equestrian sport will continue to prosper in Australia well into the future. Remi Stud, together with their wonderful Supporters, are delighted to award Saskia Smith as the 2018 winner of the Remi Stud Young Rider Scholarship.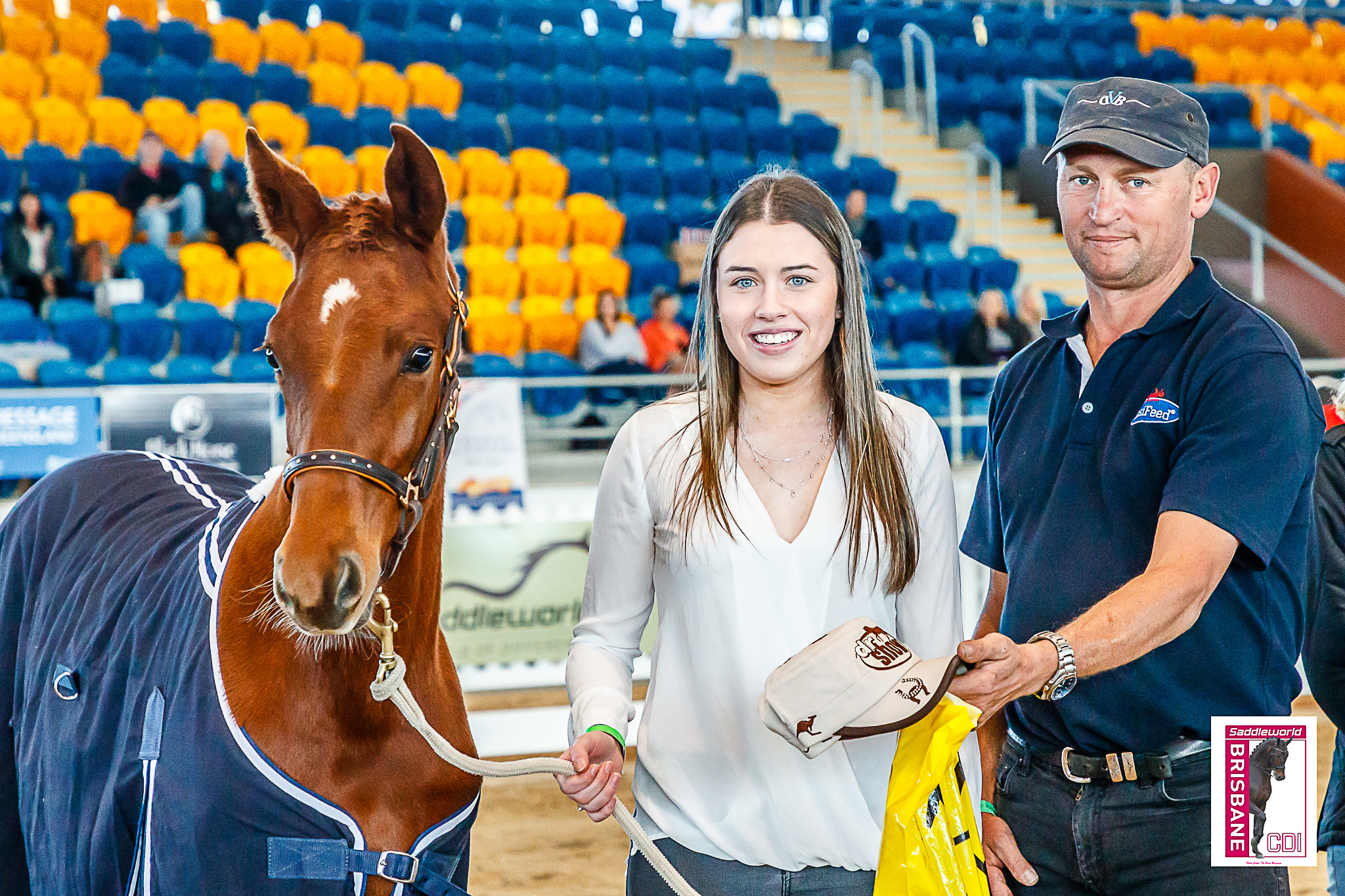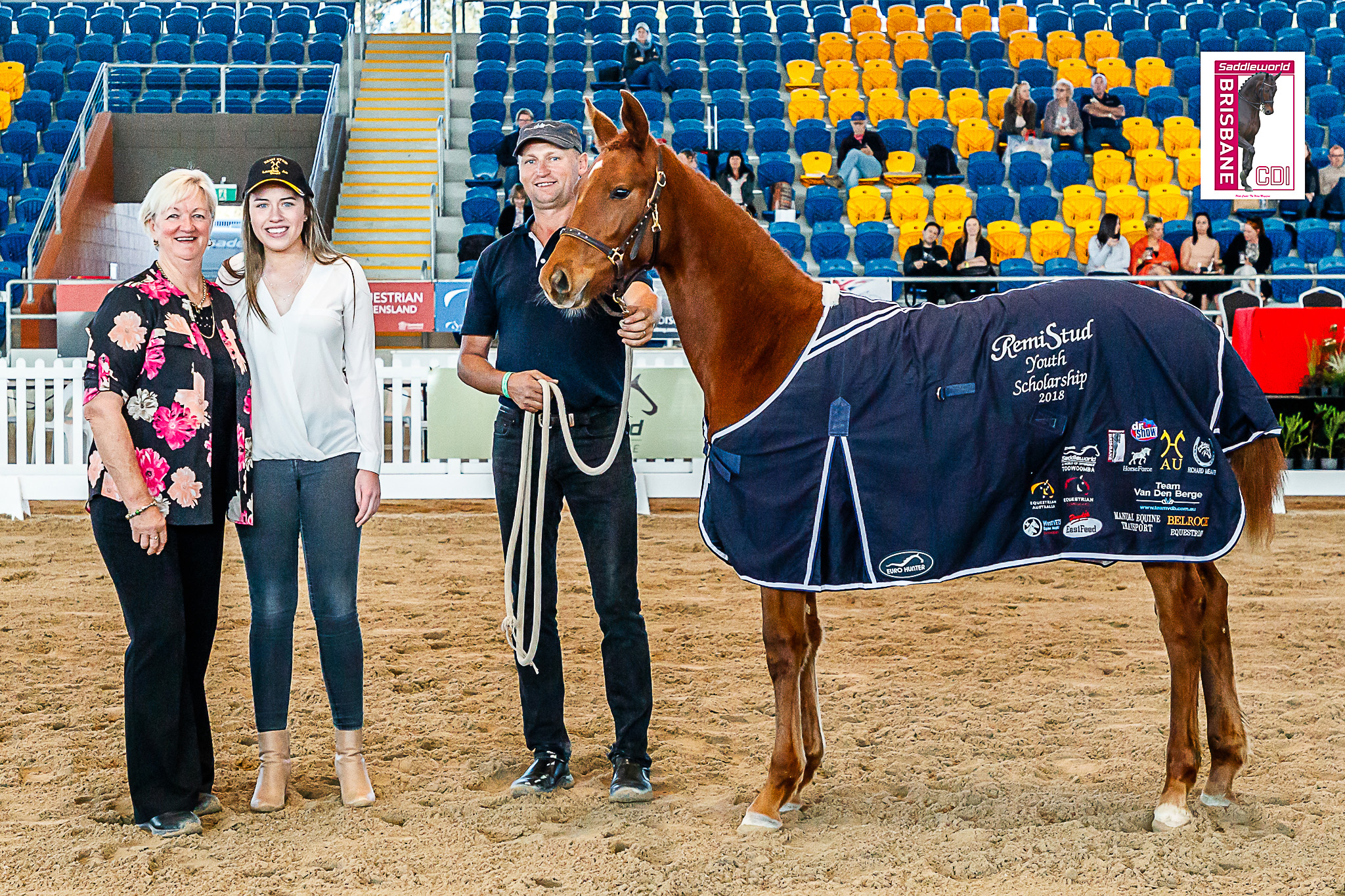 ---
2014 SCHOLARSHIP UPDATE
PROGRESS REPORT – REMI LIBERTY BELLE S & ALEX
What has Belle been doing?
We go on little walks around her paddock and around Shane's property (where she is growing up) and have also taken her and Flo (Belle's best friend) on a little adventure down the road.
Every weekend and also some weekdays (when I have the opportunity with uni) I spend time with Belle in her paddock.
Brushing her all over
Leading her around the paddock
Belle will happily lead beside me and follow me around the paddock even if she would rather be laying down under her shelter.
Picking up and cleaning out her feet
Every chance I get I pick up Belles feet just to get her used to it
Tie up training
Sometimes when I go to ride Ana I will tie Belle up and leave her, and then go and play with her after wards
She is also tied up while I am brushing her and doing her feet
How is she growing up?
Belle has grown into a beautiful young lady. Her face has matured so much and she is starting to take some sort of shape and doesn't look so much like a donkey anymore.
She is growing very very fast. Every day I swear she gains another hand.
Her personality has shot through the roof... she enjoys peoples company
She walks up to anyone in the paddock
She usually neighs at me if she sees me in the distance feeding Ana carrots and will continue to neigh until she gets her fair share
She LOVES carrots
Whenever I pull out my phone she will set herself up for a selfie or try and eat it, it's almost like she is human.
She enjoys playing with other animals such as cats and dogs
She's taken a fancy to one of Geraldine's cats
What I plan on doing with her in the near future?
I am hoping that this year, now that she is a little older, that I will be able to take her to places with me
I am also hoping to take her on a lot more walking adventures
I want to teach her a few tricks like smiling, saying yes and no, and possibly bowing.
I also want to start de-sensitising her to more challenging things such as:
Saddles clothes and rugs
Flappy things like plastic bags
Bright things
Strange noises
Crazy people
Overall, Belle and I have formed a very strong bond and I am very happy with her progress. Thankyou to all the Scholarship Supporters for giving me this wonderful opportunity. I am looking ahead to the day I can actually ride her cross country.
Alex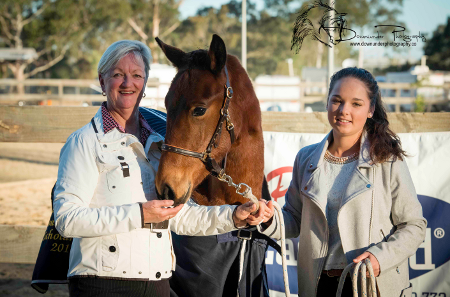 Cheryl O'Brien presenting Remi Liberty Belle S to Alexandra winner of the 2014 Remi Young Rider Scholarship
2013 SCHOLARSHIP UPDATE
REMI LIVINGSTONE S

Hi everyone,
I hope you are all having a lovely day!
Doc is currently 2yrs and 3months old and is standing at approximately 16.3hh. He is always an angel to be around both in the paddock and in training. My most recent accomplishments with him were, teaching him to lunge and introducing him to the bridle. Both things of which were very easy to do, seeing he has such a kind nature.
Tor and Mel Van Den Berg and I have discussed breaking him in during the September school holidays, so I am able to be present for the process, which I am very excited about. I can't wait to be able to finally ride my boy!
Thank you all again for presenting me with this amazing opportunity to own and train one of the beautiful Scholarship babies.
Thanks,
Bella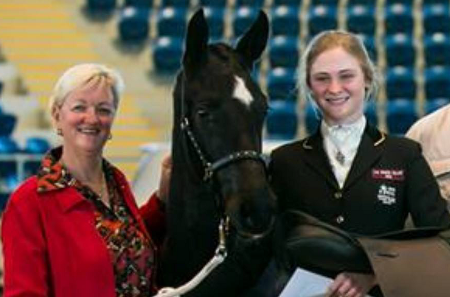 Cheryl O'Brien presenting Remi Livingstone S to Bella winner of the 2013 Remi Young Rider Scholarship
WATCH TOR & LAURIES AS WIN THE INTERMEDIATE FREESTYLE AT LAST YEARS NATIONALS:
Lauries As and Fishermans Friend take out the top honours at the Dressage Qld Awards Evening for 2012. Congratulations to Tor Van Den Berge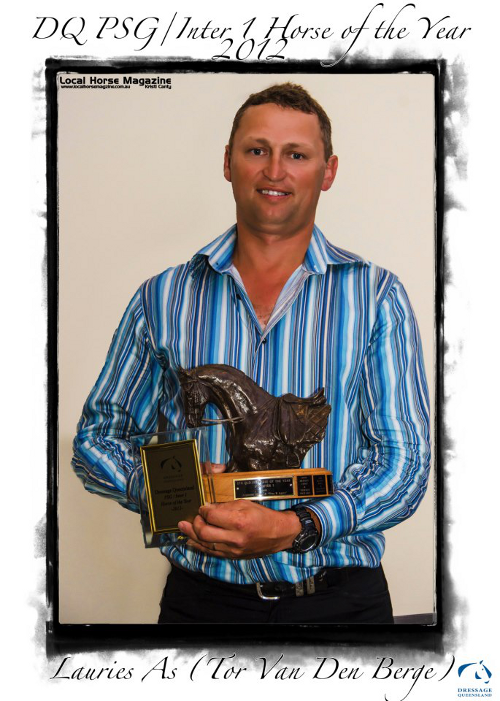 Congratulations and a big thankyou to Tor and Team Van den Berge for being awarded the Qld Small Tour Horse of the Year with Lauries As and the Qld Big Tour Horse of the Year with Fishermans Friend. Its been an exciting year and we look forward to 2013 with much anticipation. We are very proud of our 2 boys!! Thankyou to everyone who has sent through well wishes.
---
REMI STUD DESIGNER FOAL PROGRAM
"Create your own Champion"
Due to the global economic downturn, we, like many other breeders, have decided to reduce the number of foals we will produce this year. So for the first time, and possibly the only time, we are offering a Designer Foal Program using our wonderful broodmares to be bred to the stallion of your choice. This is an opportunity for breeders to obtain genetics that otherwise would only be available if you imported a mare from Europe. more....
Ring Cheryl O'Brien if you are interested in any of these beautiful Remi Horses.
Cheryl O'Brien (B.App.Sc-Equine)
Phone: 61 7 5465 1960 Mobile: 0409 653 384
Email:
Our beautiful Lauries As went to his first Ag Show at Beaudesert last weekend with his 18 m/old daughter, Laquaciouz. Ace won Champion Stallion and his daughter won Reserve Champion Mare/Filly. Congratulations Tor and Georgie!!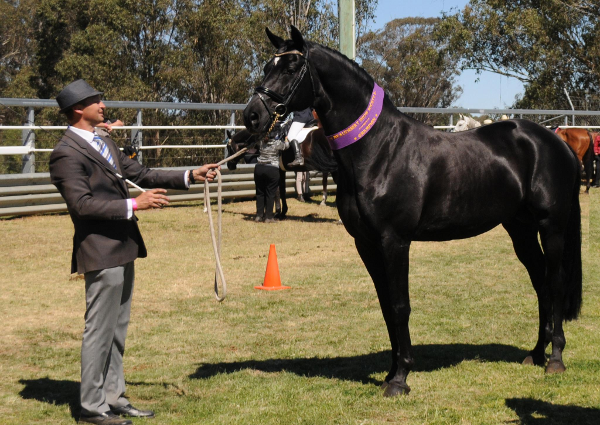 Cheryl O'Brien (B.App.Sc-Equine)
Phone: 61 7 5465 1960 Mobile: 0409 653 384
Email: