Home

REMI STUD YOUNG RIDER SCHOLARSHIP SPONSORS 2015

CLICK ON EACH LOGO TO VISIT OUR SPONSORS WEBSITES
REMI STUD YOUNG RIDER SCHOLARSHIP 2015
The Remi Stud Young Rider Scholarship is an annual Scholarship and is awarded to a very deserving Young Rider who has the talent and dedication in either Dressage or Eventing, but needs financial assistance to purchase a horse of their dreams. Cheryl from Remi Stud has put together a great team of supporters to help make this dream come true for one lucky young rider. Learn more about the team of supporters : Click on their logos and visit their sites. This scholarship is an amazing opportunity for a young rider to have entry into the equestrian industry with support from a variety of supporters. The scholarship includes the ownership of a purpose bred Remi Stud Hanoverian weanling by either Lauries As or Fishermans Friend - two of the best performed Hanoverian stallions in Australia - plus the support package which includes feed until the horse is three years of age from Prydes Easifeed, registration with Equestrian Queensland, promotion from Equestrian Australia, legal support from Horseforce, a saddle, bridle and saddlecloth from Edwards Saddleworld, 10 weeks training by Team Van Den Berge when the horse turns three years old, horse care products from Dr Show, veterinary care from Westvets and riding apparel from Belrock Equestrian. A total package valued at over $30,000.
The inaugural winner of this Scholarship in 2013 was Isabella Wilkinson- McIntyre and she received the beautiful colt, Remi Livingstone S by Lauries As. In 2014 the Remi Stud Young Rider Scholarship was awarded to Alexandra Barlow, a very dedicated young rider and competitor in the field of eventing from Yeppoon in Central Queensland. She received the beautiful filly Remi Liberty Belle S by Lauries As/ Remi Florence Nightingale by Fishermans Friend.
EXPRESSION OF INTEREST FOR CONSIDERATION FOR THE REMI STUD YOUNG RIDER SCHOLARSHIP 2015/16
To be considered for the receipt of this amazing scholarship valued at over $30,000, riders should complete the application form below and submit it to Cheryl O'Brien at remistud@bigpond.com
Applicants are eligible from the beginning of the year in which they turn 12 to the end of the year in which they turn 18.
Applicants should provide the following information to accompany their application form:
• An application letter describing why you believe you would be a worthy recipient of the scholarship - this should include current training level; short, medium and long term goals in the equestrian industry; and information regarding how this scholarship would support your future goals
• A letter from your parent or guardian stating that they approve of your application, why they think you would benefit from the Scholarship, and that they are prepared to commit the time and support necessary to care for the horse
• A letter from your current coach supporting your application, and stating why they think you would benefit from the Scholarship, and stating how they will be involved in the preparation of this young horse
Applications must be received by 30 June 2015. Successful finalists will be notified by email and will be required to attend the Brisbane CDI on 18th July when the winner will be announced and presentations made.

| | |
| --- | --- |
| | |
---
2014 SCHOLARSHIP UPDATE
PROGRESS REPORT – REMI LIBERTY BELLE S & ALEX
What has Belle been doing?
We go on little walks around her paddock and around Shane's property (where she is growing up) and have also taken her and Flo (Belle's best friend) on a little adventure down the road.
Every weekend and also some weekdays (when I have the opportunity with uni) I spend time with Belle in her paddock.
Brushing her all over
Leading her around the paddock
Belle will happily lead beside me and follow me around the paddock even if she would rather be laying down under her shelter.
Picking up and cleaning out her feet
Every chance I get I pick up Belles feet just to get her used to it
Tie up training
Sometimes when I go to ride Ana I will tie Belle up and leave her, and then go and play with her after wards
She is also tied up while I am brushing her and doing her feet
How is she growing up?
Belle has grown into a beautiful young lady. Her face has matured so much and she is starting to take some sort of shape and doesn't look so much like a donkey anymore.
She is growing very very fast. Every day I swear she gains another hand.
Her personality has shot through the roof... she enjoys peoples company
She walks up to anyone in the paddock
She usually neighs at me if she sees me in the distance feeding Ana carrots and will continue to neigh until she gets her fair share
She LOVES carrots
Whenever I pull out my phone she will set herself up for a selfie or try and eat it, it's almost like she is human.
She enjoys playing with other animals such as cats and dogs
She's taken a fancy to one of Geraldine's cats
What I plan on doing with her in the near future?
I am hoping that this year, now that she is a little older, that I will be able to take her to places with me
I am also hoping to take her on a lot more walking adventures
I want to teach her a few tricks like smiling, saying yes and no, and possibly bowing.
I also want to start de-sensitising her to more challenging things such as:
Saddles clothes and rugs
Flappy things like plastic bags
Bright things
Strange noises
Crazy people
Overall, Belle and I have formed a very strong bond and I am very happy with her progress. Thankyou to all the Scholarship Supporters for giving me this wonderful opportunity. I am looking ahead to the day I can actually ride her cross country.
Alex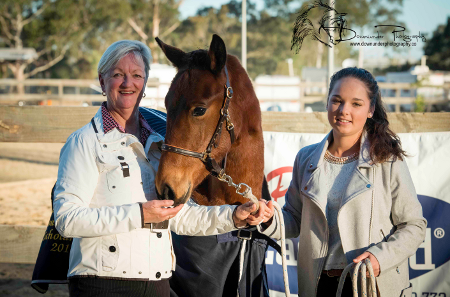 Cheryl O'Brien presenting Remi Liberty Belle S to Alexandra winner of the 2014 Remi Young Rider Scholarship
2013 SCHOLARSHIP UPDATE
REMI LIVINGSTONE S

Hi everyone,
I hope you are all having a lovely day!
Doc is currently 2yrs and 3months old and is standing at approximately 16.3hh. He is always an angel to be around both in the paddock and in training. My most recent accomplishments with him were, teaching him to lunge and introducing him to the bridle. Both things of which were very easy to do, seeing he has such a kind nature.
Tor and Mel Van Den Berg and I have discussed breaking him in during the September school holidays, so I am able to be present for the process, which I am very excited about. I can't wait to be able to finally ride my boy!
Thank you all again for presenting me with this amazing opportunity to own and train one of the beautiful Scholarship babies.
Thanks,
Bella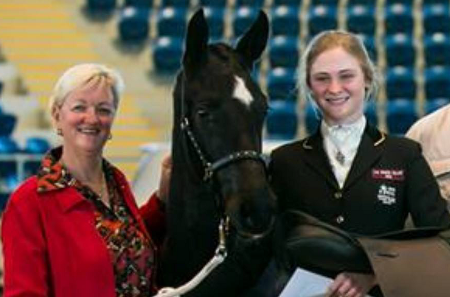 Cheryl O'Brien presenting Remi Livingstone S to Bella winner of the 2013 Remi Young Rider Scholarship
WATCH TOR & LAURIES AS WIN THE INTERMEDIATE FREESTYLE AT LAST YEARS NATIONALS:
Lauries As and Fishermans Friend take out the top honours at the Dressage Qld Awards Evening for 2012. Congratulations to Tor Van Den Berge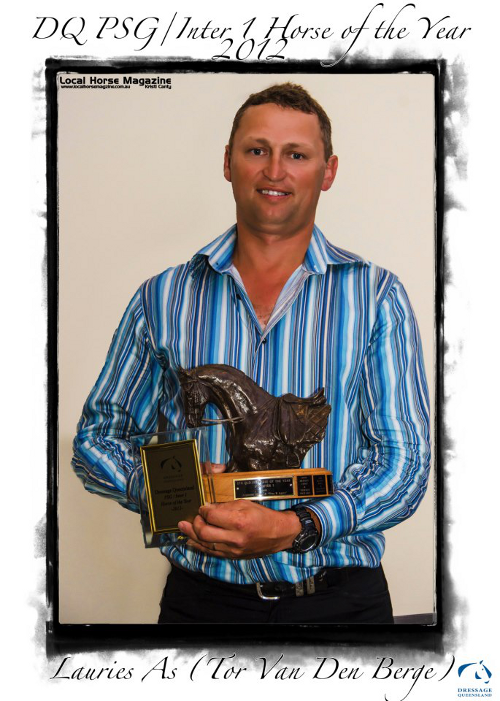 Congratulations and a big thankyou to Tor and Team Van den Berge for being awarded the Qld Small Tour Horse of the Year with Lauries As and the Qld Big Tour Horse of the Year with Fishermans Friend. Its been an exciting year and we look forward to 2013 with much anticipation. We are very proud of our 2 boys!! Thankyou to everyone who has sent through well wishes.
---
REMI STUD DESIGNER FOAL PROGRAM
"Create your own Champion"
Due to the global economic downturn, we, like many other breeders, have decided to reduce the number of foals we will produce this year. So for the first time, and possibly the only time, we are offering a Designer Foal Program using our wonderful broodmares to be bred to the stallion of your choice. This is an opportunity for breeders to obtain genetics that otherwise would only be available if you imported a mare from Europe. more....
Ring Cheryl O'Brien if you are interested in any of these beautiful Remi Horses.
Cheryl O'Brien (B.App.Sc-Equine)
Phone: 61 7 5465 1960 Mobile: 0409 653 384
Email:
Our beautiful Lauries As went to his first Ag Show at Beaudesert last weekend with his 18 m/old daughter, Laquaciouz. Ace won Champion Stallion and his daughter won Reserve Champion Mare/Filly. Congratulations Tor and Georgie!!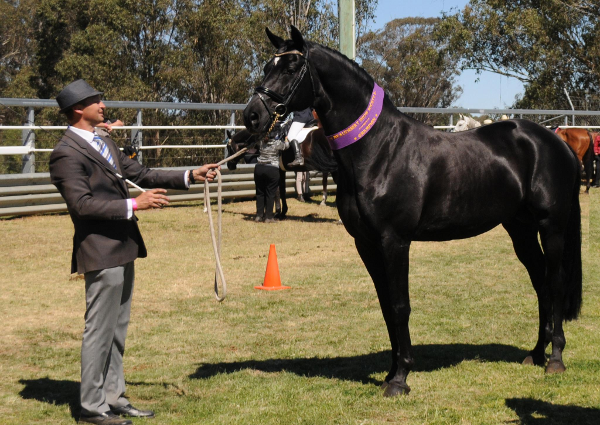 Cheryl O'Brien (B.App.Sc-Equine)
Phone: 61 7 5465 1960 Mobile: 0409 653 384
Email: